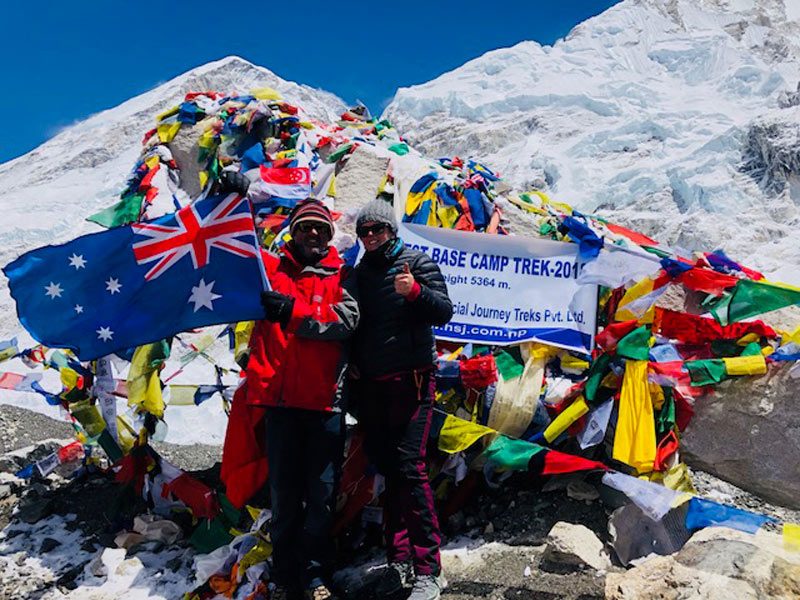 Our Australian General Manager Warren Arthur and his daughter Bree, successfully took on the world's most famous trek into Base Camp Mt Everest recently. Warren shares with us some of his incredible experience on this journey.
"This trek was no doubt the hardest thing I've ever done in my life and I've been through a few tough things and situations. It was the most gruelling test of mind, body and soul and you had to dig deep every day just to keep going. At times, you were thinking I might not be able to make it but you just had to remain focused on the destination and enjoy the stunning environment you were in rather that what you had to go through to get there.
"During eight days of trekking some of some of the most challenging, but spectacular and beautiful scenery in the world, my daughter and I made it to Base Camp. At an altitude of 5364 meters, Base Camp was sitting in a grand court yard, surrounded by the highest mountain range in the world averaging 7500 meters with Mt Everest standing tallest proud above all of them.
"At times is was difficult to breath with the air being so thin. The highest point we reached along the way was just below the 6000 metre mark. The feeling was just incredible, a sense of pride and achievement and high emotion after all the hard work. Having shared that experience with my daughter was an extra bonus and we will always have that special bond having achieved it together.
"Reality soon hits in though when you realise you can't stay long at Base Camp and you have to start to decent and get down from the altitude and out of danger. The seven day trek back down was often just as tough, but with the great weather we had, we got see Mt Everest three more times and savour the moment and I'm pleased to say Base Camp and seeing Mt Everest just there in front of you was more than I could have imaged and it's a big tick off my bucket list".
Written By: Warren Arthur, General Manager Australia