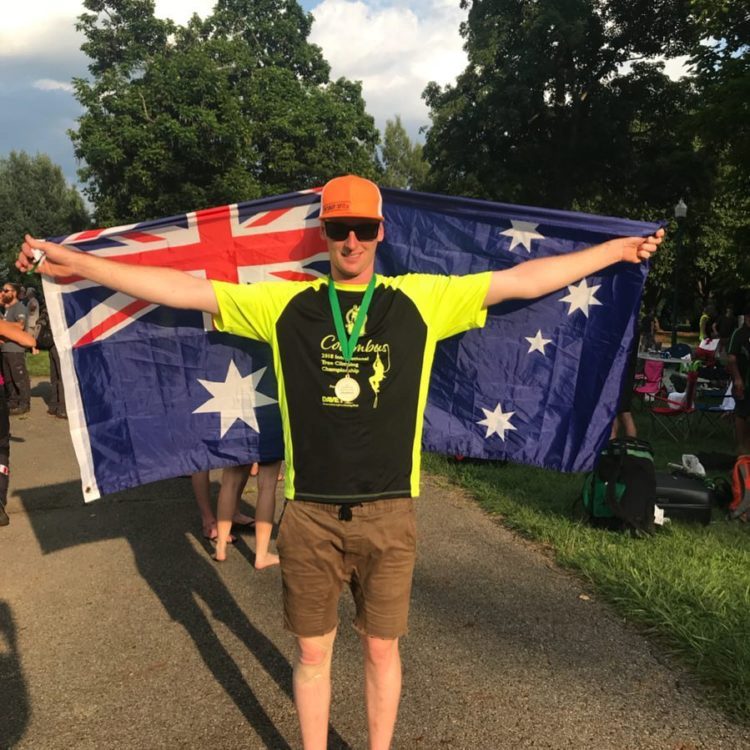 Our people are what makes our business great, so we're keen to introduce you to members of our team so you can get a glimpse of who they are and what it's like to work at Treescape®. Today, we talk to Jamie Boston, a Senior Training Officer in our Brisbane, Australian crew.
How many years have you worked with Treescape®?
Five and a half.
Tell us about your background…
I started my career working in the utility sector in my hometown of Mullumbimby NSW where I learned the basic fundamentals of arboriculture and climbing. To progress my career I moved to Darwin, Northern Territory, to work with some fantastic arborists to hone my craft.
After a short one-year stint in the hottest, nastiest part of Australia, I moved back to the East Coast, settling in Brisbane where I started with Treescape. I was quickly promoted to lead climber/foreman of the Heavy Clearing division where we tackled a huge range of arboricultural services including dead-wooding heritage listed trees, clearing large development sites, confined space removals and copious amounts of crane work.
I spent 4.5 years in this position before taking on my current role of Senior Training Officer. I've always had a passion for sharing the knowledge I have developed over my 11-year career so this job is a perfect fit. As well as this, I have spent the entirety of my career traveling Australia and the world, climbing competitively. As soon as I first saw people climbing, I was hooked! I had a childhood of extreme sports and adrenaline rush so climbing trees was right up my alley.
Memorable moment at work?  
An incredible project I was a part of was the removal of a 200-year-old Moreton Bay Fig that had died. I spent 10 hours in the tree craning it out, without coming down for a break.
It was the single hardest day of work I have ever had due to the sheer time spent in a tree, wielding a big saw (660 with 30inch bar) all day. By the end of the day I was so fatigued and cramping up all over, but I wouldn't let it beat me. It may have been the hardest day of work but also the most rewarding. Such a buzz with the crew all day.
At the end of the day, my manager and crane operator dunked me into the Brisbane River with the crane! They allowed me to drop my saw down but everything else ended up in the drink!
Can you share some job highlights?
I have been lucky enough to be a part of some incredible projects at Treescape®. The Dead and Dangerous Tree Removal Program in Canberra has been a huge highlight because of the sheer size of trees in confined spaces that we have removed. This involved 7 days weeks for 7 weeks straight!
My training role highlights are a little simpler. I really get a kick out of sharing my knowledge with people and seeing them progress in the workplace. Whether it's something advanced like crane work or as simple as getting your chainsaw to cut sharp and true, I get a massive buzz out of it. The appreciation shown by both staff and managers makes it feel special.
Run us through what a normal day looks like for you…
My days can be so varied. Currently we have been finishing off a large project to deliver CPR and first aid to 140 staff Australia-wide which is a full day of training. Covid-19 has meant that usual class size of 10 has been reduced to 2-3, therefore dragging it on! On my days without formal training, I like to get out into the field with the staff, assist with technical jobs and just share my knowledge. These are the days I enjoy the most!
How do you start your day?
There's no real secret to starting my day except for being on time! I strongly believe in starting your day positively by being on time… which, in my books, is 15-30 minutes early. If you're not early, you're late!
What do you do outside of work?
I eat, sleep and breathe tree climbing! When I'm not working I generally train/practice climbing to prepare for upcoming tree climbing competitions. This can be up to 4-5 times a week in the lead-up to the comp. When I'm not climbing, you'll generally find me fishing. My family is full of fishing fanatics, allowing us to enjoy a shared hobby and get in some quality family time.
What's your favourite place in Australia to visit and why?
My favourite place to visit in Australia is home – a little town in the foothills behind Byron Bay called Mullumbimby. As they say… there is no place like home!