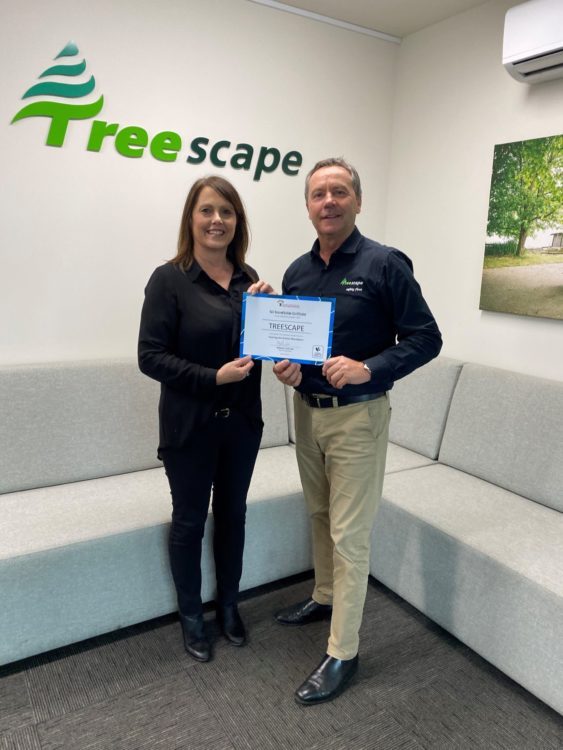 We are proud to have just become a Hearing Accredited Workplace, after months of work with the New Zealand Foundation for the Deaf and Hard of Hearing. This partnership has supported us to put in place multiple initiatives that better support those who are deaf and hard of  hearing – and to ensure our staff do not experience hearing loss while at work.
The certificate was presented to Executive Chair Ed Chignell by the NZFDHH's Community & Corporate Partnerships Manager, Linda Holmes earlier in the month.
The NZFDHH partnership, which began in 2019, provides organisations like ours with practical tools and training to help us become more inclusive of the 880,000+ New Zealanders who are deaf or hard of hearing.
Some of Treescape's achievements (which helped us gain the accreditation) include:
Microsoft Teams subtitles can be used to ensure those who are hearing impaired can fully participate in phone calls and online meetings
Emergency evacuation plans have been updated to ensure staff and visitors are evacuate safely, even if they are unable to hear the alarm
Free online and in person hearing checks to monitor hearing health and raising awareness about the warning signs of hearing loss, to help ensure hearing health is maintained
In addition, a nationwide project is in progress to standardise Treescape-issued hearing protection, upgrading to the best gear on the market. Once this is achieved, we will be able to test each set to ensure the maximum protection is achieved by changing helmet straps (so the muffs sit in the correct position), and ensuring hygiene kits seal properly around the ears.
We are committed to working with the NFDHH in the coming years, to ensure that we protect the hearing of our existing employees and remain an inclusive workplace to employees who are deaf or experience hard of hearing.
1 in 6 New Zealanders have a hearing loss, which is around 880,000 people
300,000 people with hearing loss are in the working age of 20-65
30% of hearing loss is preventable
90% of people with a hearing loss experience depression, isolation and hopelessness
52% of people have a moderate hearing loss
Approximately 250,000 New Zealanders are wearing hearing devices
Approximately 200,000 people in NZ (6%) have tinnitus, a sensation of ringing in the ears. There is currently no cure, however hearing aids can alleviate some symptoms

Source: NFFD