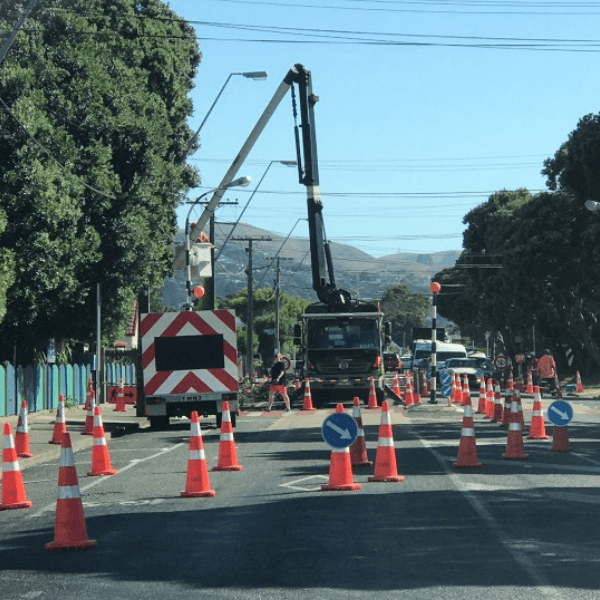 A Bit of History
Treescape has a long standing relationship maintaining trees near Wellington's power line network and we are very pleased to be continuing on with this journey.
After a hard fought tendering process, Treescape was awarded the new contract with Wellington Electricity Lines Limited.  Our excellent track record and innovative ideas won over the client, securing the contract for another term.
Keys to success
The focus of our proposal also involved key areas of innovation with our
fleet,
data capture potential,
and emergency response management.
Our Fleet
Our Fleet is purpose built, in-house at the direction of our Chief Engineering Officer and Director Brandon Whiddett. A highlight is the all-terrain insulated MEWP's which provide greater access, less operator fatigue (by reducing hot stick use) and reducing the need for power isolations.
Data
The capturing of data is more critical each year and this is a key area of evolution for Treescape sThere are some really exciting areas of efficiency and reporting being developed here.
Emergency Response Management
The Wellington team, with support from the greater Treescape community has been at the forefront of vegetation storm response, an early recollection being the 14th Feb 2004 Valentines Day Storm, through to the current day.
On that day the 230km/h winds and rain wiped out large amounts of Wellingtons established trees disrupting both Utility and Roading networks. From then till now, our crews still attend emergency works throughout the night.
When & What
The first day of the new contract is 1st February with crews starting work on the Evans Bay and Seaview feeders.
The photo to this post is a great example of what we will be doing. It features the LRV57 MEWP trimming Pohutakawa trees outside Randwick School to ensure both network and public safety. This involved a detailed traffic management plan also with this being a high traffic and pedestrian volume area.