We want to explain the conditions under which we are working as laid out by the Ministry of Business Innovation & Employment (MBIE) and the Lifeline Utilities.
Only a small number of frontline Treescape teams are currently working in the field – the rest are safely at home, in lockdown.
If you see a Treescape crew out and about, they are responding to an essential request from one of our Lifeline Utility clients; that could be a local council, electricity network, rail, or roading company or the like.
The definition of "essential works" is taking care of anything that could impact on powerlines, people or property.  Please note that this is not scheduled maintenance or "business as usual".  Some jobs will be response work; some will be removing trees that are a hazard to powerlines, people or property – an essential task, particularly as we see strong winds during this time of year.
If you see crews cutting down trees on street berms – the reasons for these works may include; dead trees over a certain height that pose a potential risk to pedestrians, vehicles, homes or even power lines.  This is an important safety concern as there likely will be an increased number of families getting outside for a walk during this lockdown period.
Rest assured, our crews are doing everything possible to look after themselves and you the public.  They are working to the Ministry of Health guidelines, which means, as well as their usual PPE, they are following strict hand-washing regimes and social distancing protocols.  The crews are working in bubbles, there's never more than 2 people to a vehicle, and the entire crew are sent home if any one of them show any signs of sickness.
For their safety and yours, please keep at least 2m away from Treescape workers to keep their bubble intact. Please also note that most sites are cordoned off for safety reasons and the cordon must not be entered.
If you have any concerns about the work being completed by our crews and whether you deem it essential or not, please feel free to contact MBIE direct.
Please be kind to our essential workers who are working hard to keep Kiwis safe and the lights on.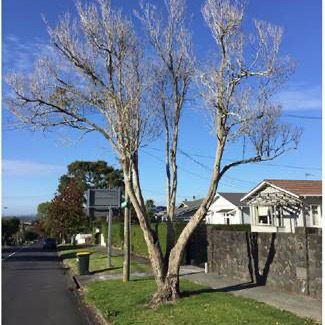 The tree shown is dead and fragile and poses a risk to the public, property and close-by powerlines. Branches could easily break off during high winds and damage powerlines or hurt a person walking underneath.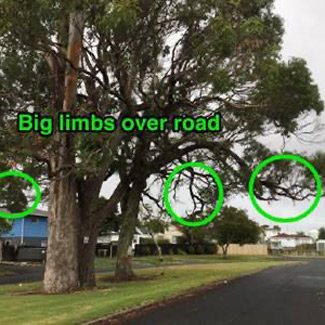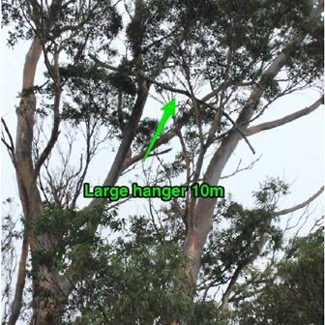 Some of this tree's branches are dead and since they're overhanging public paths and roads, they pose a high risk to foot traffic and carriage ways.