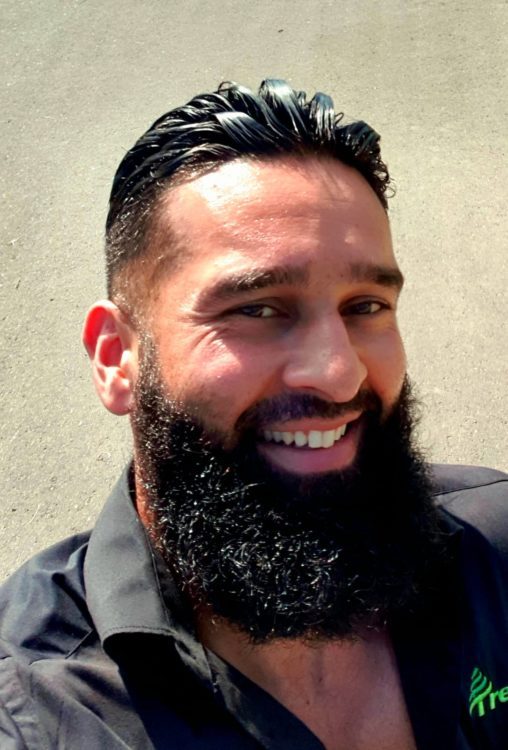 Our City of Sydney Contract Manager Tarik Hussein talks us through what his daily routine involves (including visualisation and positive affirmations), his job highlights and how he avoids time wasters
How many years have you been with Treescape? 
Four years as of April 2020. I was originally engaged as a contract climber in 2016 to assist crews across three contracts.
Due to having an AQF Certificate V (Diploma) in Arboriculture and 10 years industry experience, an opportunity arose in January 2018 to inspect trees on the City of Sydney Contract. It was a chance to move away from the tools – as any climber who has been in the game long enough will testify, it takes a toll on the body. Ten months later I came on full time with Treescape as Contract Manager for our flagship client, The City of Sydney Council.
What are your job highlights?
Achieving the impossible. Treescape was 6 weeks behind program and one who knew what the contract entailed said that it was impossible to get back on track.
My team were amazing and together we wore our hearts on our sleeves and went to war, leaving no stone unturned. With the hard work and commitment of all staff involved, we managed to not only get back on track but spent 9 out of 12 months at least 1-2 weeks ahead of program.
Also, seeing the personal development and career progression of the team and ending the financial year ahead of budget with a record-breaking month has truly been a highlight of not only my time with Treescape but of my entire working life.
How do you get ready to start your day?
I don't believe I would have achieved the success I have without laying a consistent foundation of good daily habits. The below has become somewhat of a ritual to me. I believe daily habits are a must for anyone who aspires to be better today than they were yesterday:
Coffee. There's always time for coffee, double shot cap with two sugars.
Visualisation. On the drive to work there is no radio. I instead focus on the most challenging tasks and tell myself they are easy. A lot of positive affirmation puts me in the right state of mind.
Tidy workspace. A quick and methodical (OCD) clean-up of my office, clearing my work area = clear mind, which frees me up to think. The only time this step doesn't happen is if we are working on a large project or have multiple critical issues happening at the same time and I have notes, maps or documents in my work area.
Set up the day. The productivity of the day depends on this. Firstly, I log in to Microsoft Planner and briefly review all tasks we have to do. I then drill down and focus on the priorities and how I will be most effective with my time. Any task that can be delegated is assigned to a staff member best suitable to handle the work. Then I transfer my list to my diary (pen and paper) and number the tasks by priority, 1-10. I then elaborate on what is needed i.e fix chipper – Fleet 171 to be driven to Vermeer by "employee" requires major service, replace brakes, new grease nipples. Being specific is the key to becoming effective with your time.
Identify time wasters. Not only do you need to know what tasks need to be accomplished, I believe it is equally important to identify what tasks are a waste of time. I will spend a further 5-10 minutes writing down in my diary all the things that were a complete waste of my time yesterday or even the week prior, as a reminder to avoid them at all costs.
I am now ready to take on the day.
Run us through what a normal day looks like for you…
A lot of time on the phone – too much for my liking, but it is 95% of how I resolve issues fast.
Minimal email interaction – my job is not to sit and respond to emails all day or send more to create more work for my future self. I usually check my inbox in the morning briefly and if there is nothing urgent or important it either doesn't get responded to or is addressed towards the end of my day when I have a few minutes to spare.
Organisation of crews and their needs, but the most important factor is to treat our people as people and not numbers. A lot of energy is spent focusing on culture and morale to ensure my guys love coming to work. I give them the responsibility of making many day-to-day operations decisions and only change the plan if I see it as a necessity.
Client liaison. I make a habit of daily communication between the client and myself, updating them on our progress, productivity and any issues we may be facing with plans on how we are going to work through them. Transparency and honesty is paramount to good relationships with our clients.
I'm also kept busy with site visits, fleet issues and high level contract management as well as chasing new business.
What do you do outside of work?
Exercise is important to keep me physically fit and mentally strong, and I enjoy occasional hunting trips but most of my time outside of work is spent with my kids and their hobbies. At the end of each day I usually end up in the man cave, tinkering with chainsaws or working on DIY projects.
What was your most difficult job and why?
Hands down this one! Fast paced and demanding, it is definitely not for the faint hearted!
What's your favourite place in Australia to visit and why?
There are many places in Australia that are beautiful. I think we are very fortunate to live in a country as vast as this one however, I would have to say my favourite place in Australia is Uluru (Ayers Rock). It is full of culture and the heritage of the traditional owners of this land. The experience was humbling and made me appreciate how great Australia is.
[social_buttons facebook="true" linkedin="true"]