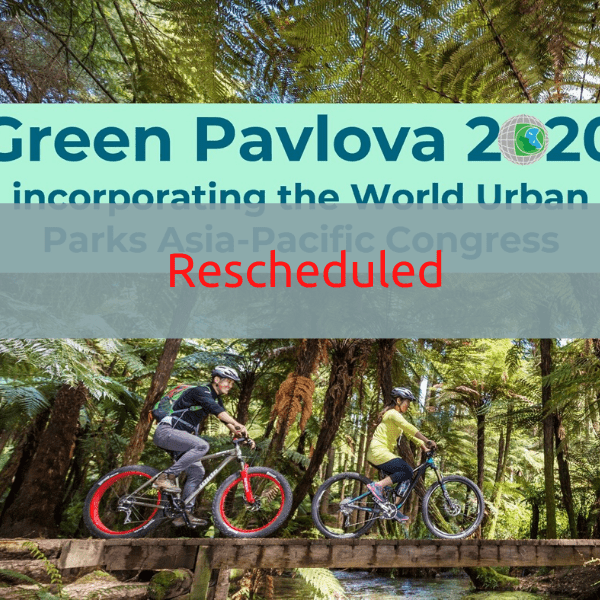 Due to the increasing global risk of COVID-19, a decision has been made to reschedule the 2020 Green Pavlova Conference to May 2021.
While it is a difficult decision to make, at this stage the priority is to ensure the safety of all delegates, contributors and the general New Zealand public.
Please see Green Pavlova FAQs for more details
****
What is it?
In short, Green Pavlova is a major international event that brings together the parks industry leaders from Asia-Pacific region to network, learn and discuss the best practices.  This year's event will be the biggest in the Southern Hemisphere as it incorporates the World Urban Parks Asia-Pacific Congress. It takes place in Rotorua, May 4 to 7.  
The aim of Green Pavlova 2020 and WUP Asia-Pacific regional congress is to reflect the principles of Te Tiriti o Waitangi: Participation, Protection, Partnership. There will be a focus on sustainability, environmental management, bio-diversity and community engagement, with the spotlight on cultural values.
Green Pavlova isn't just a two-day conference; it includes lots of other content, including the Generate Hui for developing leaders, a conference for the NZ Cemeteries & Crematoria industry, and a free day of masterclasses.
Coffee, Cookies and e-Bike
Treescape® is supporting the event through sponsorship, but perhaps more importantly we are providing the coffee for delegates throughout the event using eco-friendly cups manufactured from a blend of rice husk fibre and food grade polypropylene. Treescape® supported the event in the same way last year and hopefully those returning delegates will bring last year's cups with them.
In association with Arborlab (NZ's premier consultancy), Treescape® will be manning a stand and demonstrating PermeTeq™, a unique permeable, non-slip surface that can be used for tree pits, pathways, playgrounds and the like. The experienced team on the stand will also be discussing the critical topic of duty of care and risk management. At the stand, delegates can grab a free cookie to go with their coffee and enter the draw for a new e-Bike.
On day one of the conference, Treescape® will be hosting a masterclass presented by 3 key speakers from the industry who will discuss climate change, how the arboriculture and parks industries can jointly address the key issues, and what we need do as a combined industry both individually and as a collective. Watch this space for the names of our experts that will be presenting & speaking in the Masterclass.